Wow, sorry about the delay. I am totally in over my head with projects. I wish there were 20 more hours in the day (and that they come after my kids go to bed.) I signed up for 30 in 30 but I don't think I can do it. I've barely even showered this week. Life is just crazy right now! Not to mention that I sliced my finger open last night and it's making typing blog posts tricky.
I fully intend to keep doing the posts I wanted to do, but I hope you'll bear with me if I don't post every day. And I did the survey in a stupid non-calculatable format so I have to tally those results by hand. Yay me.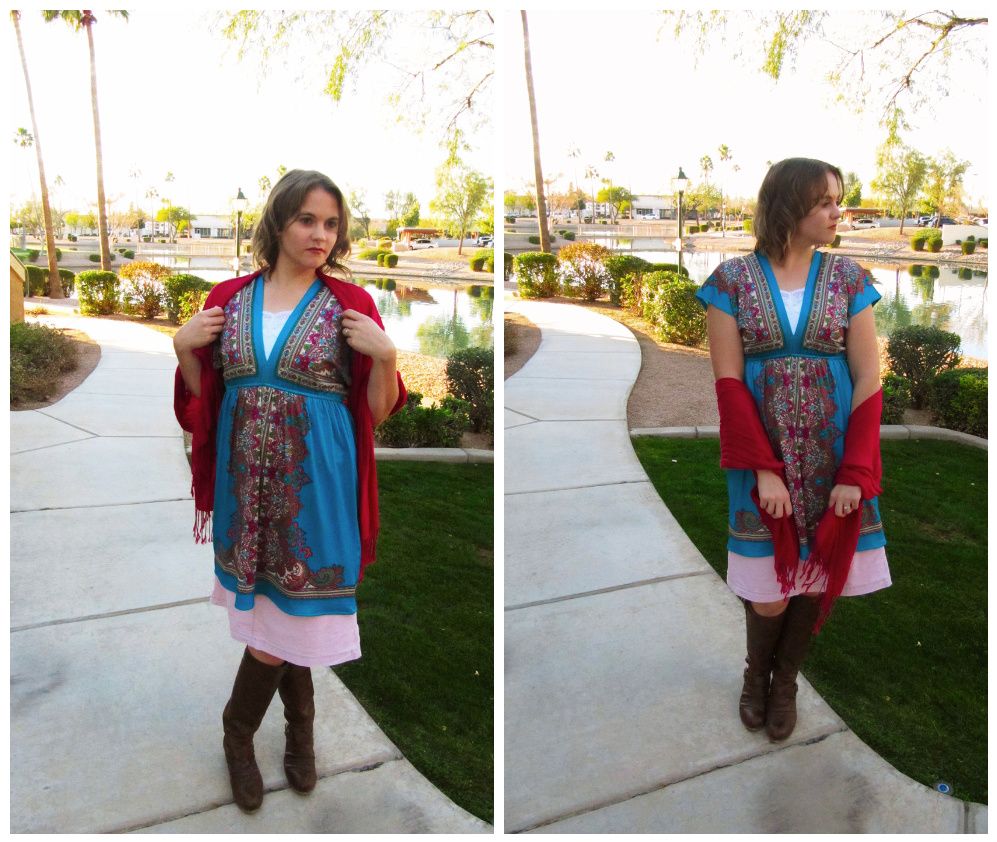 Dress: Forever 21; $22
Tank: Old Navy; $4
Skirt: Gap, Thrifted; $5
Boots: Famous Footwear; $50
Scarf: Walmart; $5
I was watching
"What Not to Wear"
tonight and this
Dolly Parton reincarnated girl
was on the show. After her makeover she looked SO much better (as they always do) but she hated her new look. She wanted to go back to the over-madeup face, the huge bumped up platinum blonde hair, and her teeny bopper style. You know why she did this? Here's my theory:
You get used to a certain idea of what looks good.
For me, for a very long time, the only way I thought I could look good in anything was
if I lost 10 lbs.
And even now that I'm dressing more for my body type which is helping so much, I still have to push away that idea about myself. I will always want to lose that last 10 lbs, and I'm always trying to. But if you are anything like me or the Barbie girl, you have to
open up your mind to the possibility that you could actually look good in clothes how you are
(without loads of make up, without Spanx, without huge bleached hair, without losing weight.) You CAN look good in clothes, but you have to figure out how.
That's my Soap Box for the night. Good night y'all.