According to the Shop Your Shape Website,
"As a Spoon Body type (sometimes called figure 8), your

hips are larger than your bust

and you have a defined to somewhat defined waist. Your hips have a "shelf" appearance and you are

prone to gaining weight in your tummy

and have a tendency towards love-handles. While you may gain weight in your upper thighs and upper arms, your

lower legs and arms are shapely

and your best assets."
Hmm...Wide hips? Flabby tummy? Love handles? This body shape should be called "The Mom Shape" because anyone who has given birth to a baby probably has all of these problems. Let me add in: "stretch marks and saggy breasts" and it's the whole package.
Lucky me, this is MY body shape! So how do we Spoons best dress to disguise our problem areas?
Also from Shop Your Shape:
"The key to dressing a Spoon body type is to

draw attention to your upper body while deemphasizing your tummy and hips

to create a more balanced appearance and create the illusion of an hourglass figure. Your

legs are your best asset

, so feel free to play with skirt lengths and show them off!"
Let's not forget that I'm a Mormon. This means that I dress modestly. My skirts generally should not be shorter than knee length, unless I'm wearing leggings underneath. And I don't wear sleeveless shirts unless they also are layered.
(So my less-than-modest suggestions I would wear with something under or over.)
Here are my suggestions: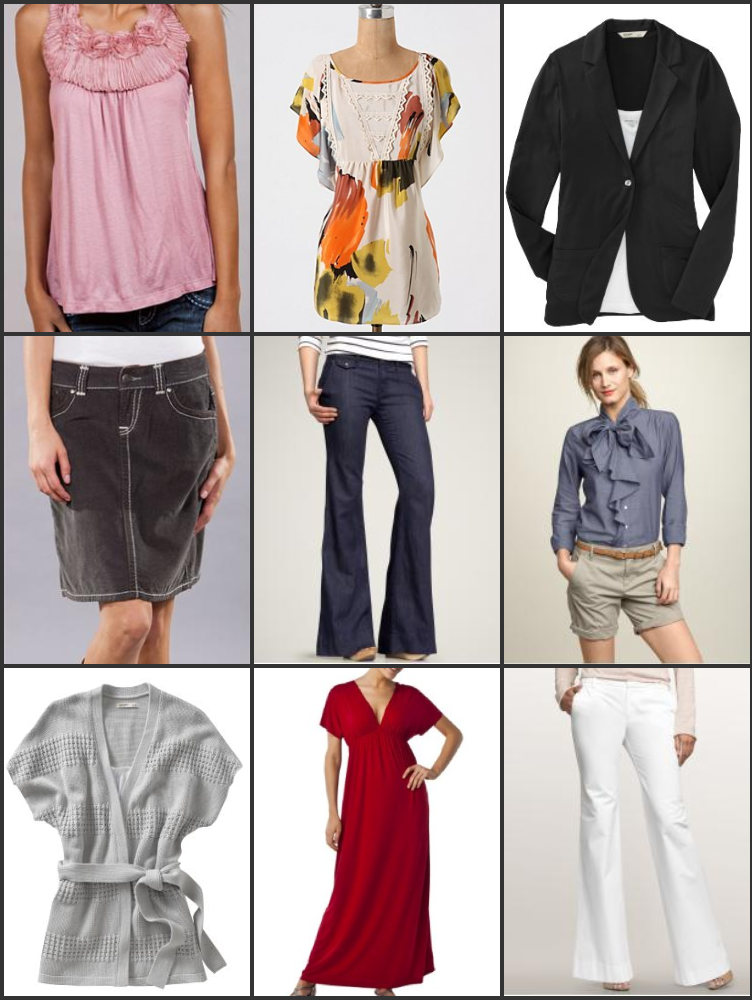 From Left to Right, Top to Bottom:

RULES:
Wear tops that have details around the chest and arm area, which will draw attention away from the middle.
Look for empire waists, as long as they drape close to the body (so you don't look pregnant.)
Tie belts above the 'shelf' to draw the eye away from the tummy.
Wear jackets that are tailored to fit snugly around the narrowest part of your waist to create the hourglass appearance.
Wear skirts that are A-line or straight, nothing that will add bulk to the hips.
Show off your legs by experimenting with different skirt lengths.
Wear pants that fit well on the top, are boot cut, straight leg, or even wide leg. (I love skinny jeans with loose flowy tops, but they aren't for everyone.)
For more details, check out
Shop Your Shape
!